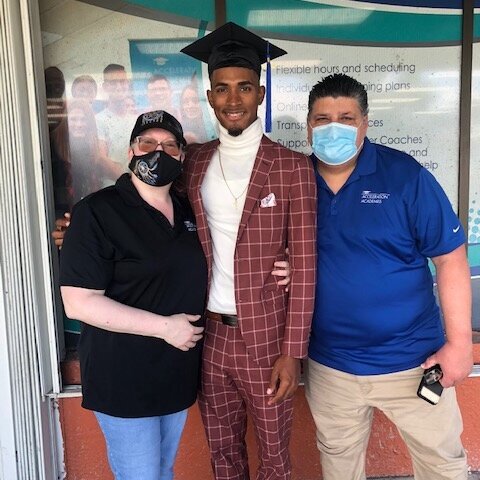 The young learners were adamant — they'd worked so hard for so long to reach this milestone that a virtual graduation simply wouldn't cut it.
Since their commencement originally planned for April was canceled due to the Covid-19 pandemic, graduates of Miami-Dade Acceleration Academy were invited to an outdoor, drive-up-style celebration on Aug. 14.
This year, Miami-Dade's four campuses boasted 115 high-school diploma recipients. About two-thirds of the Class of 2020 — all donning masks and maintaining a healthy social distance — claimed their caps and tassels at the Central campus.
"We did a couple of Zoom calls with our graduates, and they very loudly and clearly told us they wanted to wait for an in-person ceremony," said Gina Montagnino-Fiske, district director of Miami-Dade Acceleration Academy. "So we coordinated this drive-by celebration so we could award the graduates with a cap and tassel, their diploma and some little congratulatory gifts."
Though masks covered what were surely excited smiles, the spirited graduates arrived at the celebration with loved ones in tow — snapping photos and laughing and cheering along with the educators who had helped them achieve a dream many had once thought out of reach.
"You can just see the pride in their faces and tears in their family's eyes just knowing that this milestone has finally been achieved," said Montagnino-Fiske.
Beyond receiving their diplomas and caps, 25 of the newly minted alumni were selected to receive a $200 scholarship to help them continue their studies and careers. High-achieving graduates receiving scholarships were hand-picked by Miami-Dade Acceleration Academy staff in partnership with Overtown Youth & Children Coalition, a Miami-based youth-advocacy nonprofit. The funds were made available through a Florida Department of Education grant.
Scholarship recipient Raify Ferguson, 21, of Homestead, said he plans to enroll at Miami Dade College for two years before continuing on to either Florida International University or the University of Miami.
"I want to be a businessman, that's the career I want to take," Ferguson said. "I was born a businessman."
For graduate Marc Orbegozo, 22, of Miami Gardens, a diploma brings him one step closer to his ambition of working for the U.S. Marshals Service. Before doing so, Orbegozo said he will first apply to become a Florida state trooper to build more experience, which he couldn't do prior to earning his diploma.
"I'm really excited to be here today to see all my old professors and to share the moment with them," Orbegozo said. "The thing that really brought to this moment is [Acceleration Academy] had these amazing teachers here who helped me when I needed help."
Working in partnership with Miami-Dade County Public Schools, Acceleration Academy offers an accredited and personalized high school diploma program — free of charge — to South Florida students. For more information, please call 872.529.5115 or contact us here.