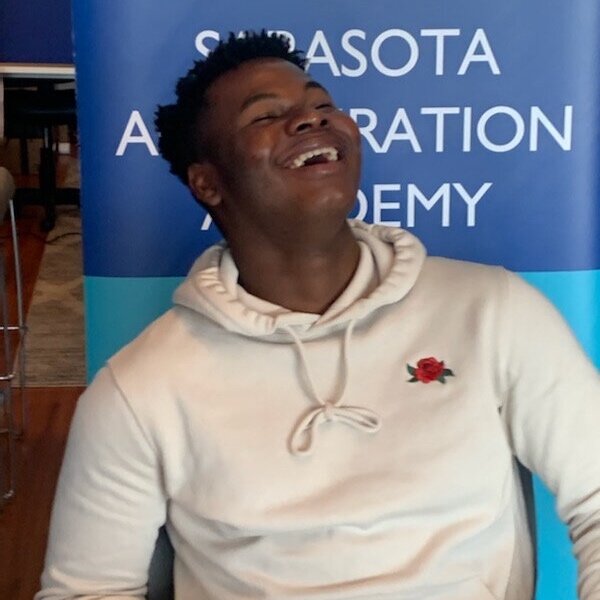 You wouldn't know it from his 1,000-watt smile, but Stanley Cezalien has seen more than his share of trouble. The Haitian native lost family members in the devastating 2010 earthquake, grieved the unrelated deaths of his father and baby sister, and followed his mother to Florida only to find he couldn't complete his high school education at a traditional school.
Then he found Sarasota Acceleration Academy, where he has been powering through his coursework and hopes to earn his diploma soon.
"They are amazing teachers," he says of the staff at SAA. "I can never stop telling them thank you. If it were not  for them, I would not be able to get my high school diploma."
The Academy's educators are just as fond of Stanley, who came to the school during the Covid-19 pandemic and made clear from the start that he was committed to being a diligent, focused and grateful student.
"We were a little leary because sometimes when people come from out of the country, it's very hard" to determine their academic situation and help them learn strong English skills, said SAA Director Monetta Rustin.
"Ma'am, I assure you, I am going to do this," Stanley told her when he began. And he made good on that promise, Rustin said.  "He is one of the most serious students we have right now."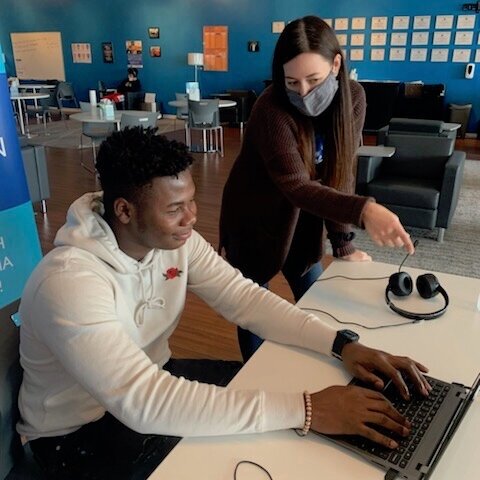 Stanley, who turned 20 in November, grew up in the Haitian capital of Port-au-Prince as the oldest of two children. In 2016, in the wake of the tragic loss of their family members, his mother decided to move to Sarasota to be near members of her extended family.
Her son soon followed. Always an eager and respectful student, he hoped to continue his high school education without pause. But due to his age and language skills, he found himself being referred to adult education and GED programs.
"Every (traditional) school I went to, they wouldn't take me," Stanley recalls. But he was clear on one thing; he wanted the diploma necessary for him to pursue his dream of joining the Army and eventually studying business and real estate. "I didn't just want to get my GED."
After hearing "no" so many times, he almost gave up. "There was a point where I was like, 'I don't want to go to school anymore,' " he says. But his mom urged him to keep looking until he found the right place. "She said, 'Make me proud of you.' "
"That's when I decided not to give up on myself."
At Acceleration Academy, which operates in partnership with Sarasota County Schools, students take one course at a time. Stanley enjoyed working at his own pace, reaching out to teachers and advocates when he needed help.
And his pace was strong. Graduation candidate advocate Frank Cruz says that Stanley was always pushing hard to master one course, then race on to the next. "I mean from the moment he registered, he was hounding us" to check his work and allow him to advance. "Everyone on the team loves him."
Spend a few minutes talking to him, and it's easy to see why. Despite the challenges he's faced over time, he displays a relentlessly positive attitude. When he runs up against a tough subject — American history, for instance — he bears down, reads a lot and doesn't hesitate to ask for help.
Because Stanley has a full time job (more on that in a minute), he often turns his attention to coursework in the evening or on the weekend. History content coach Fred Thomas always made himself available. "He's always there for me," Stanley says.
So is the rest of the SAA team, Stanley says. That began from the moment when Cruz welcomed him with warmth and encouragement. "When Mr. Frank talked to me, I realized, 'This is my last chance.' "
While Stanley has been working hard on his future, he has also been sharing his joyful spirit in his job at the Water's Edge retirement community in Bradenton. He works as a server and a cook in the restaurant there, and takes pleasure in bringing some smiles to the faces of elderly residents quarantined due to the pandemic.
"I try to find ways to make them laugh, make them smile," he says.
As he takes his diploma and bright spirit into the world, Stanley says, he's learned a lot, and not just from books. Moving from studying in Creole to English, helping his family heal and move forward, and finding the American high school program where he could thrive — all have given him a fuller sense of his own potential.
"I learned a lot of things about myself," he says, grinning. "Things that I was afraid to do, I'm not afraid to do anymore."