An aspiring businesswoman, a future soldier, a student who had found a lack of support at her previous school, and the first member of a Samoan family to earn an American high school diploma — all were celebrated Thursday by a Bethel Acceleration Academy "Grad Caravan."
The Covid-19 has changed many things, including the way schools operate. But at BAA, educators have worked hard to keep giving young learners the chance to realize their dream of graduating. Because in-person commencements are not yet possible, the BAA staff brought the caps, gowns and diplomas to them.
One of the grads celebrated Friday was Ulalei Su'esu'e, who moved to Washington State from American Samoa and is the first person in his family to graduate from high school in the United States. It wasn't always easy, but he persevered.
"I tried my best. I just wanted to finish school," said Ulalei, who described himself as "happy and excited."
Family members erected a pop-up canopy for the big day, festooned it with balloons and held signs to congratulate Ulalei. He was ready for the moment, emerging from the house dressed in full cap and gown graduation attire to applause and joyful laughter from the family members and educators present.
Ulalei's father, Solofa, spoke to everyone about how grateful he was for his son to have the opportunity to earn his diploma at BAA.
"There's always an end at the tunnel and then you see that light of happiness, which is finally today," Solofa said. "I'm so thankful, I thank God for this day and I thank the faculty, everybody from the school, for pushing him to graduate. It goes down in our family history now."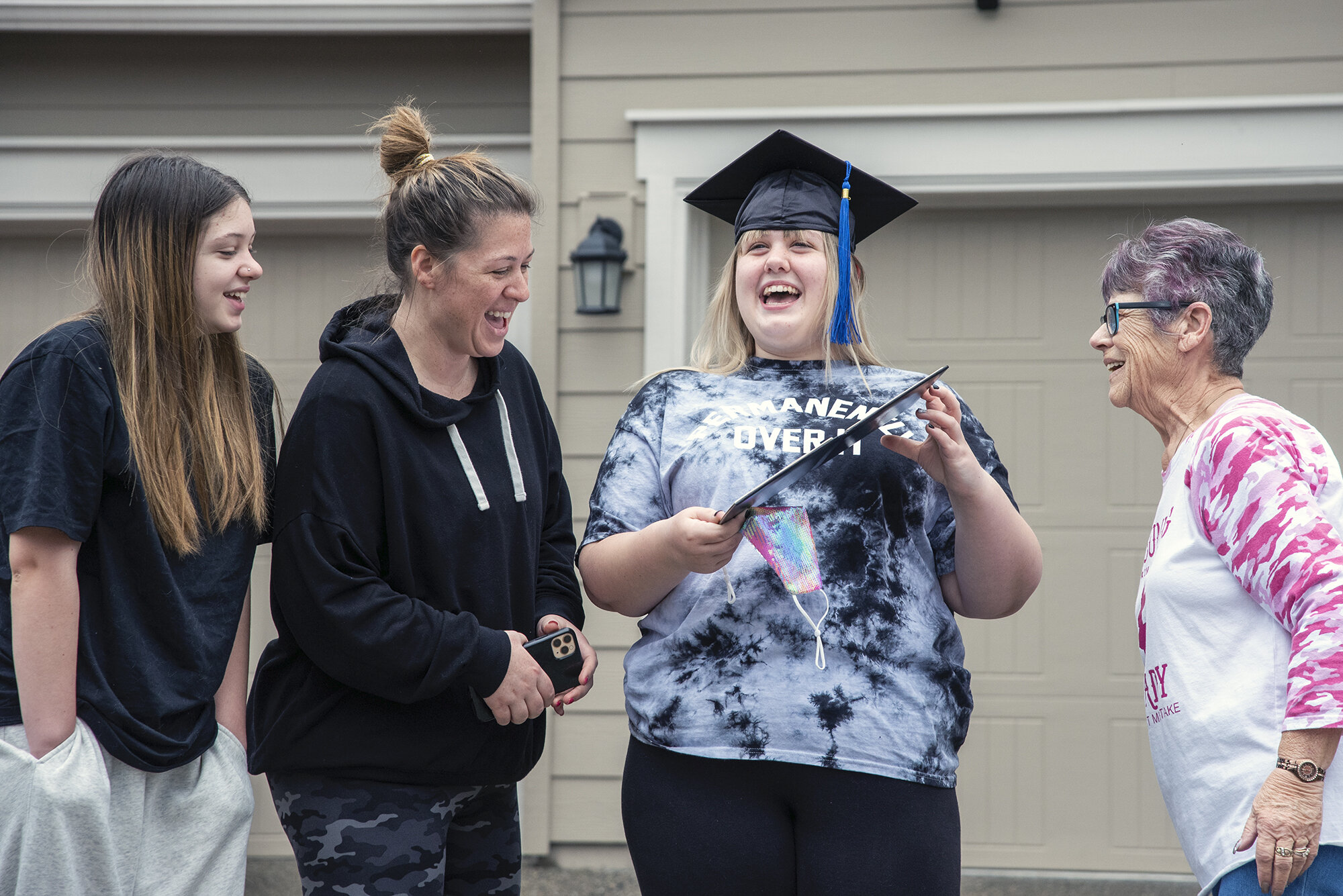 Surrounded by her proud family, BAA graduate Kaylee Gentry looks ahead to a bright future as she enters the esthetician certification program at Clover Park Technical College.
Also celebrated was Kaylee Gentry, a student who had been struggling at a traditional high school and decided to give BAA a try in February 2020, just a month before the pandemic forced all schools to close and go remote.
Founded in 2014 as a way to offer a personalized, non-traditional high school path for students who had not found success in traditional schools, BAA was the first of what is now a nationwide network of Acceleration Academies. Long before the pandemic, it offered students the chance to learn remotely as well as (when public health conditions permit) on campus.
Kaylee joined a school that was already prepared to support her studies with an online learning platform supplemented with one-on-one support via Zoom conferences.
She wants to open up her own business one day, and says that ambition and encouragement from BAA educators provided the motivation she needed to push through her obstacles and earn her diploma.
"I feel super excited," said Kaylee, who is moving on to the esthetician certification program at Clover Park Technical College. "I didn't know it was going to come this soon but I'm glad that it did."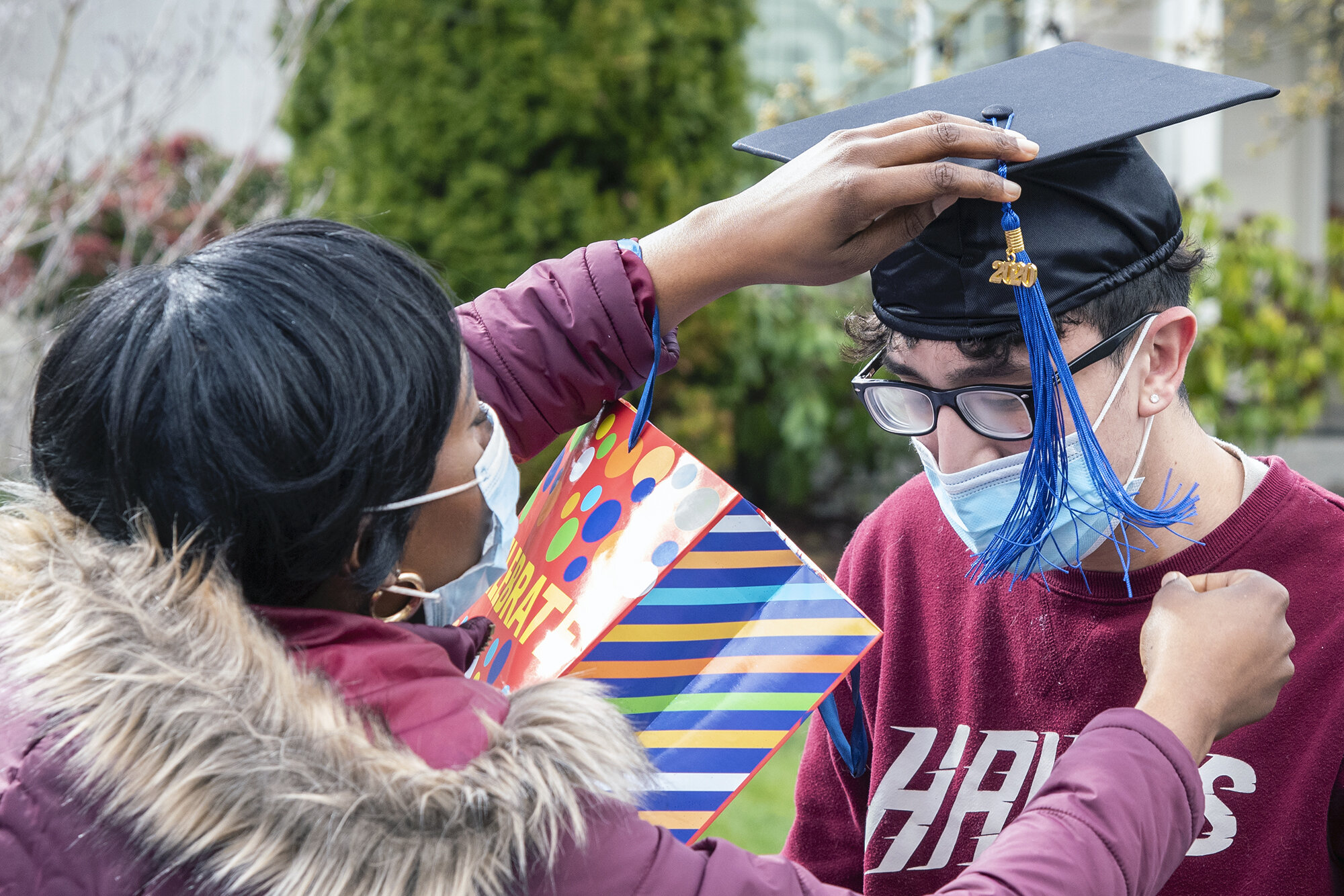 BAA graduate Seth Lauer has his tassel readjusted by career and life coach Jennifer Hyppolite to symbolize his new status as a high school graduate.
Another GC celebrated on the caravan was Seth Lauer. Seth enrolled at the academy in 2018 so he could graduate early and join the military. He said his biggest obstacle was overcoming a lack of self-motivation, but the staff helped him to overcome that to complete his studies.
"It's great — finally," he said of reaching his goal.
Erin Anderson joined the academy in December and earned her final credits in March. She said she found out about BAA through friends and family who had success at the school. She matched that success, finishing her remaining credits and earning her diploma in months.
At her previous school, Erin said she felt overlooked and unable to get the personalized help she needed. Anderson credited BAA staff members Jennifer Hyppolite, Kevin Torres, Justin Kirsch and Jeanne Courtney for coaching and encouraging her.
"I'm excited and proud of myself," said Erin, who is pursuing a career as an ultrasound technician and looks forward to successfully starting and supporting a family.
"Thursday's graduates represent the indomitable spirits and resilience that characterize so many of our graduation candidates," said Diana Solis, BAA's interim director. "When a young person comes to us with obstacles and doubts, and then leaves with hope and a high school diploma — there's just nothing better than that."
"It's great — finally," he said of reaching his goal.