Alissia Guzman, 18, dropped out of high school when the Covid-19 pandemic shut down her school during her senior year. Her family was homeless and she couldn't afford a computer to do coursework remotely. But then she found Sarasota Acceleration Academy where, she says, "I felt like I was home." 
Many teenagers travel to high school from tidy homes where they can count on healthy meals. They drive their own cars or catch a ride with family and friends. They leave each afternoon with nothing on their schedule but after-school activities, doing homework and attending to their social life.
Other than being in high school, Alissia Guzman has very little in common with those young people. Her family is homeless, she has to take public transportation wherever she goes, and it's her job to look after her younger brothers before and after school while her mom's at work.
Still, she says, her life has greatly improved since she enrolled at Sarasota Acceleration Academies.
"I felt like at home," she says of first coming to the campus recently. "I felt this weight come off my shoulders."
Alissia, 18, grew up in Sarasota, one of six children of a single mother. Her two older sisters dropped out of high school and, after the Covid-19 pandemic hit last year, she feared she would follow their path.
The family had already been living on a lean budget, and then the pandemic cost Alissia's mother her job. They lost their apartment and had to live for a time in a rooming house full of people abusing drugs and alcohol, playing loud music late into the night and generally creating a chaotic environment.
Eventually, the family was able to secure a place in a Salvation Army shelter. It's nothing fancy, but at least they have beds to sleep on and food for at least some of their meals. Her mom recently got a job at the local Coca-Cola operation, but she has to go to work at 3 a.m. — which means it's Alissia's responsibility to wake her younger brothers up, fix them breakfast and ride the bus with them to their school.
When the pandemic closed school buildings and forced students to switch to remote learning, Alissia was at a loss. She didn't have a computer or the money to buy one. Already behind in her classes, she lost momentum and — in her senior year — dropped out.
"I just felt I couldn't do it anymore," she says. "I just gave up."
But then her mom found out about Acceleration Academies. When she came for a visit, graduation candidate advocate Frank Cruz welcome her and made her feel immediately at ease. The other educators on staff, particularly math content coach Khaliah Augustin, helped her catch up on her studies. And the supply of food items — mac and cheese, cold drinks, pizza on special days — filled her stomach and made it easier to focus.
"It's good to come here every day because they feed me, too," she says. "And my teachers are right here."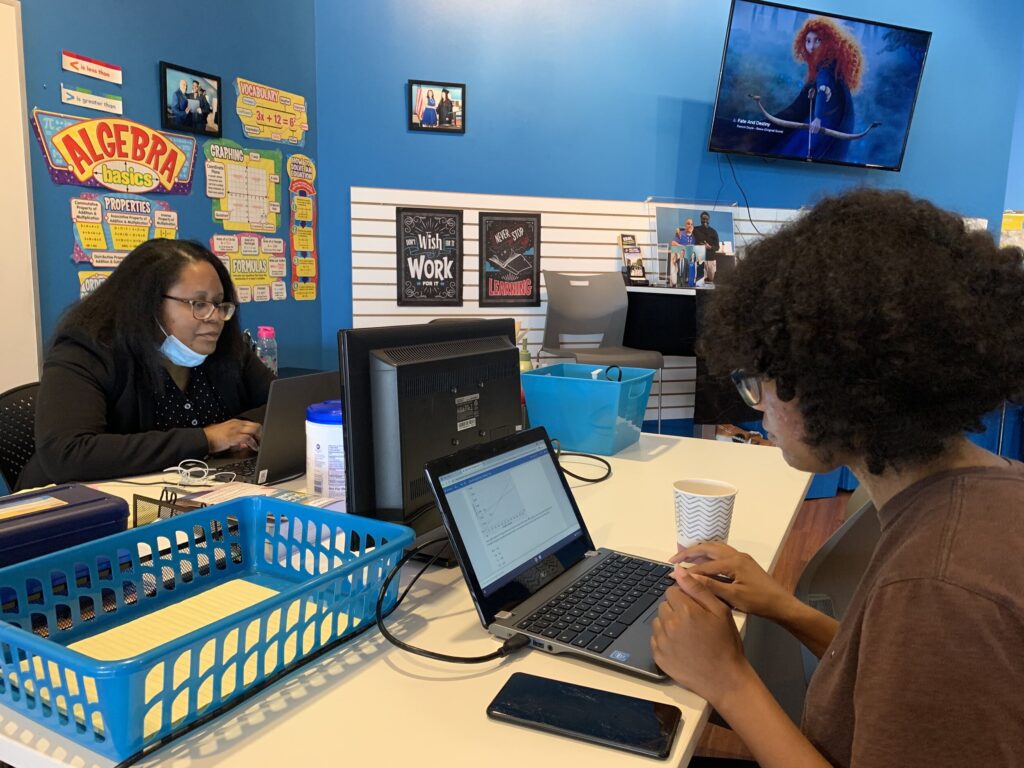 Getting to and from school is no simple matter. She has to take a series of public buses to and from campus, and to meet her younger brothers after they get out for the day. But she doesn't complain, and when Cruz offered to call her a Lyft one recent afternoon, she politely declined.
Alissia has determination, and she has dreams. She'd like to enlist in the Navy, visit Japan. "I want to travel," she says. "Always been here my whole life."
She says she's learned how much she can accomplish by staying self-disciplined. Some mornings when she doesn't feel like waking up to the alarm bleating at 6 a.m., she thinks about the fact that her mom had already been at work three hours.
"My mom is really my motivation," she says. "She gets up and does what she needs to do."