"I am honored and excited to acknowledge and celebrate the accomplishments of our graduates," said Bethel Acceleration Academies Director Alison Hansen. "Your journeys have not always been easy, but you never quit or gave up. Now you can proudly say 'I did it!'"
Hansen's words echoed the pride, exhilaration and hope that greeted the BAA Class of 2021 as the grads paraded across a stage and received their diplomas in August. Family, friends and the educators who supported them at every step beamed with pride and filled the gymnasium with cheers.
"Now, as you go on to the next chapters of your individual lives I want you to remember this moment, when all your hard work and accomplishments have come to fruition because you made the choice to put in the work to get here," Hansen said in a speech prepared for the event. "Know that your goals and dreams are within your reach, and if you are willing to put in the work, you can achieve great things."
Meet some of the grads:
Jordan Frazier: 'The teachers actually motivate you to graduate'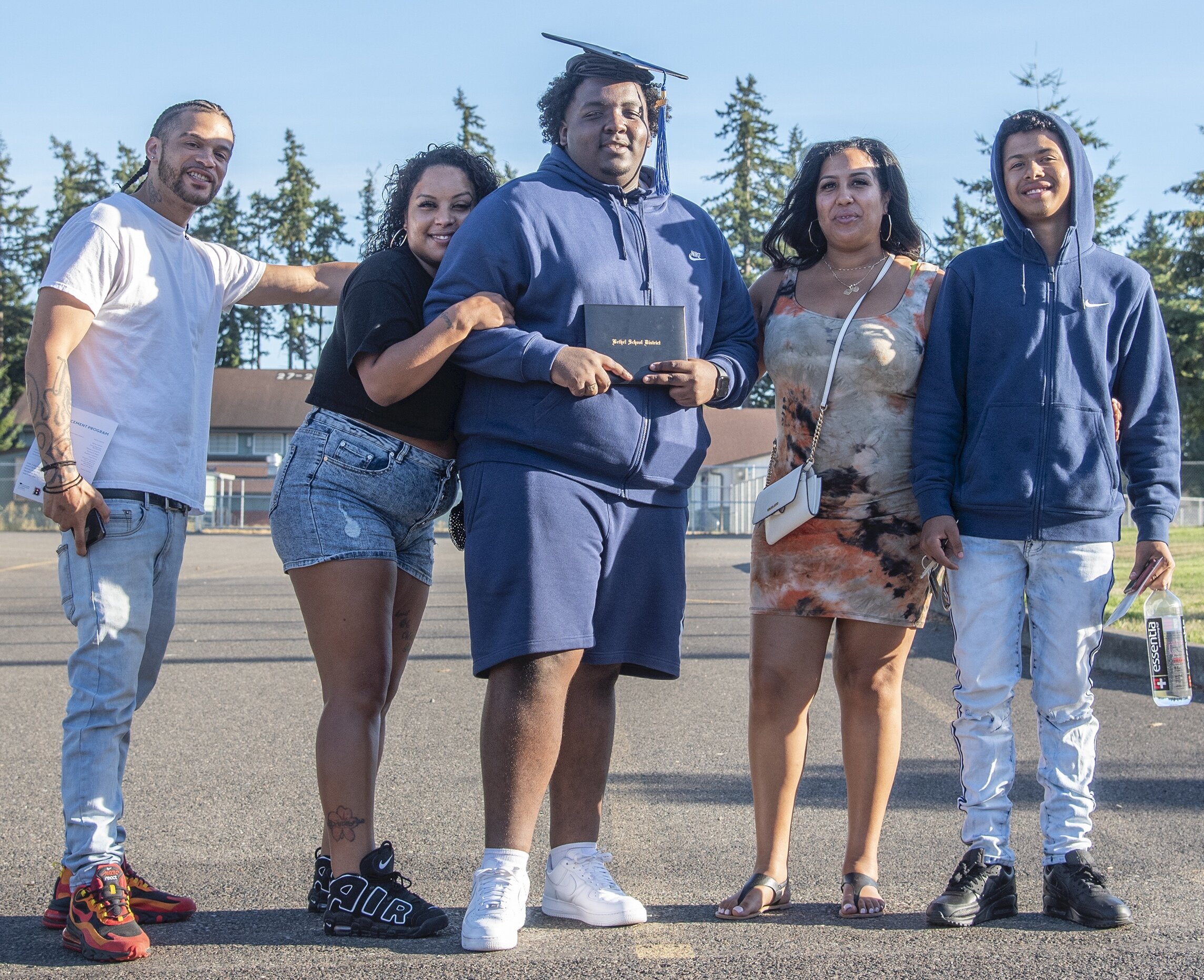 When Jordan Frazier's mother died in 2019, he and his family lost their center of gravity.
 "She was very loyal, loving, tough, strong, best friend," said Jordan, now 18. "She always held our family together. When she passed, everything broke away."
Jordan, his father and siblings are doing their best to rebuild. And Jordan honored his late mother — and himself — when he successfully completed his high school studies and joined the Bethel Acceleration Academies Class of 2021.
"That was one of the things my mom wanted me to do," said Jordan. "I did it for her."
Jordan had been in a traditional high school, but fell away when he had to drive his mother to chemotherapy appointments and repeatedly missed class. After she died of cancer in October 2019, Jordan resolved to complete high school at BAA.
He found the flexible schedule and personalized approach to be a good fit. The educators and advocates on staff proved to be his best allies.
"The teachers actually motivate you to graduate," he said. "It's not just giving you a piece of paper. They help you in so many ways."
Jordan appreciated the support. "When my mom passed away, I pushed down my emotions. I stopped talking to people," he recalled. But the BAA team surrounded him with a blend of emotional support, academic coaching and — when he lost momentum while working at home during the pandemic  — steady encouragement.
Jordan cited a number of BAA educators, including social studies coach Kevin Torres and career and life coach Jennifer Hyppolite. "She's cool; she understands me," Jordan says.
And graduation candidate advocate Starr Phillips also worked her persistent magic. "Coach Starr, she motivates me, always calling and texting me," he said. "I like that."
Jordan hopes to attend the University of Washington and study communications. On a visit to the BAA campus shortly before graduation, he shared some of his plans with graduation candidate advocate Jeanne Courtney and prepared to say farewell to an important chapter in his life.
"Bye, Miss Jeanne," Jordan said.
"Take care of yourself," she replied. With a smile and a hug, she added,  "Don't be a stranger."
Hannah Watkins: 'I want to achieve a lot, not a little'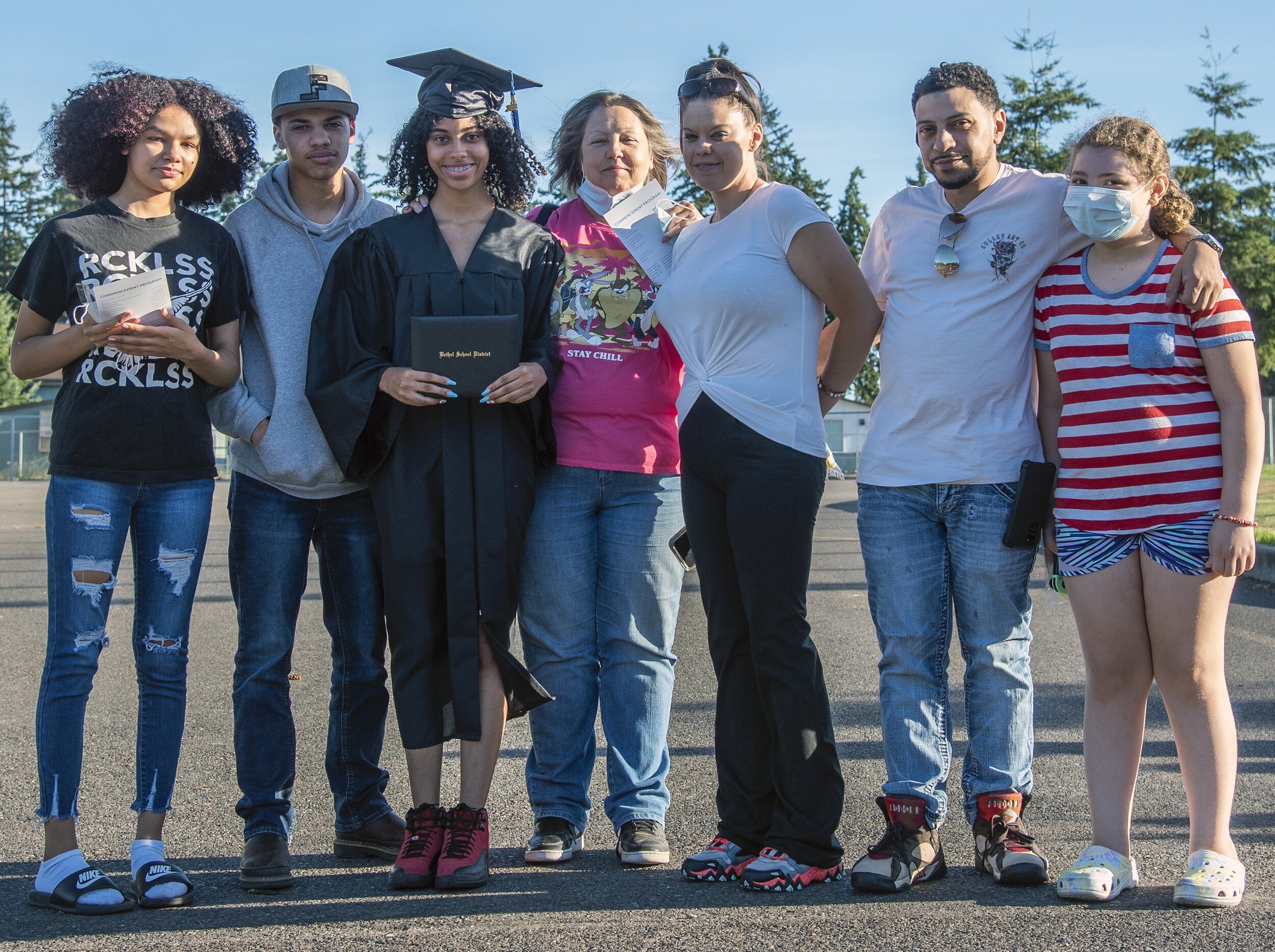 But for Bethel Acceleration Academies, says Hannah Watkins, "I would have dropped out and would be working at McDonald's or something. I don't think I would have achieved any of my goals."
Instead, Hannah recently joining the ranks of the BAA Class of 2021 and is looking forward to a career in cosmetology, opening her own salon and doing what she can to create a positive, loving community.
Not long ago, Hannah was enrolled at a traditional high school but had fallen so far behind that it seemed like she might not graduate until her younger sister did. Hannah is bright, articulate, a naturally strong learner. But she found her social life was getting in her way.
"I pushed my schoolwork away, did everything with my friends and had school be my last priority."
Then she found out about BAA, which works in partnership with the Bethel School District to provide a nontraditional path to graduation for students who need a different approach.
"They told me it was possible for me to graduate this year," Hannah, 18, said of the Acceleration Academies enrollment team. "I just had to put in the work."
With the ability to work from home, Hannah found her focus and powered through her coursework, successfully completing 10 courses in two months. She said she had plenty of support from BAA educators, including Alison Hansen, BAA director and a gifted math coach.
"Math was always challenging to me. I was always afraid to ask for help" at traditional schools. But when she asked Hansen, "she went through it step by step with me. It helped me visualize — she was very patient."
Also helpful was Steve Shamburger, the graduation candidate advocate who monitored her progress and cheered her at every step. "He always sent me messages, saying 'You're one of my most-improving students right now.' "
Such encouragement helped to motivate her. Because it came from educators who worked with her closely and set high standards, she said, it meant more than praise she had received at other schools. The earlier compliments, she said, "didn't mean much to me because I want to achieve a lot, not a little."
When Hannah was a little girl, she loved to fix her grandmother's hair. She would turn that early interest into a career, going on to study cosmetology after graduation and some day opening her own salon — a place where customers could find not just hair, skin and nail care but also community.
"I would like to have an impact on people by creating a loving community where people would feel comfortable coming in," she said. "A loving environment where nobody feels left out."
Her advice for other young people hoping to follow her example: "There's nothing you can't do. Follow your dreams, no matter what anyone tells you."
Nicholas Joseph: 'It proved to me that I've got what it takes'
Now that Nicholas Joseph has a high school diploma in hand, the sky's the limit — literally.
"Space, it's the future," says Nicholas, a well-spoken young man who wants to study astrophysics in college and recently became the 200th graduate of Bethel Acceleration Academies since the school opened in 2014.
Citing the recent success of commercial flights by private businessmen Elon Musk and Jeff Bezos, he said, "We want to go to Mars, we want to go to the moon. We're going to do a lot more things in space."
Not long ago, Nicholas's ambitions seemed as remote as those celestial bodies. Caught up in a combination of family troubles and uneven school attendance, Nicholas faced the possibility of aging out of the public school system.
Then he found BAA. Rather than having to attend school for a set number of hours each day, sit in classrooms with dozens of other students and juggle multiple courses at once, he was able to chart his own path — one class at a time — to a diploma.
"Amazing — It's given me the opportunity to do whatever I need in my life and still get school done," said Nicholas.
Rather than providing an environment that supported his studies, Nicholas said, his home life has been challenging at best. His mother, a single mom with five children, has to work long hours and was often away from home. The death of his grandmother, who had been living with them, was devastating. And family members struggled with poverty and addiction — particularly his sister, who Nicholas says nearly died at the hands of a heroin dealer. She survived and, with support from her brother, has gotten clean.
"Things like that, it pulls you away from school," he said. "It also made me realize life is precious."
He appreciates that the flexibility afforded by BAA has allowed him to help family members in need, pursue his interests in trading foreign and cryptocurrency, and learn more about his roots as a Native American of Choctaw and Seminole descent. He also appreciated the transportation BAA provided between campus and his home and jobs.
At every step, he said, BAA educators supported his journey.
He credits math coach and BAA Director Alison Hansen with helping him overcome challenges in math; social studies coach and cheerleader-in-chief Kevin Torres for providing regular boosts; and graduation candidate and resident grandma Jeanne Courtney for regularly looking in on him. "She was helpful for just always being there, checking up."
Along the way, Nicholas said he's learned to combine such support with his own self-discipline to reach his goals.
"There are plenty of kids out there, just like me, who have single parents. They don't have that push, someone saying, 'Are you doing your homework? How did your test go today?' " he said. "If BAA wasn't here, I would be dropped out of high school, no chance to get a diploma, and my only opportunity would be to get a GED."
Instead, at age 21, he's emerging from high school with a 3.6 grade point average, a record that allowed him to land a well-paying job at IKEA and gives him hope for university studies in the not-too-distant future.
What did he learn about himself at BAA? "It proved to me that I've got what it takes."
Leah McElroy: Fulfilling a dream 'to be the first in my family to graduate'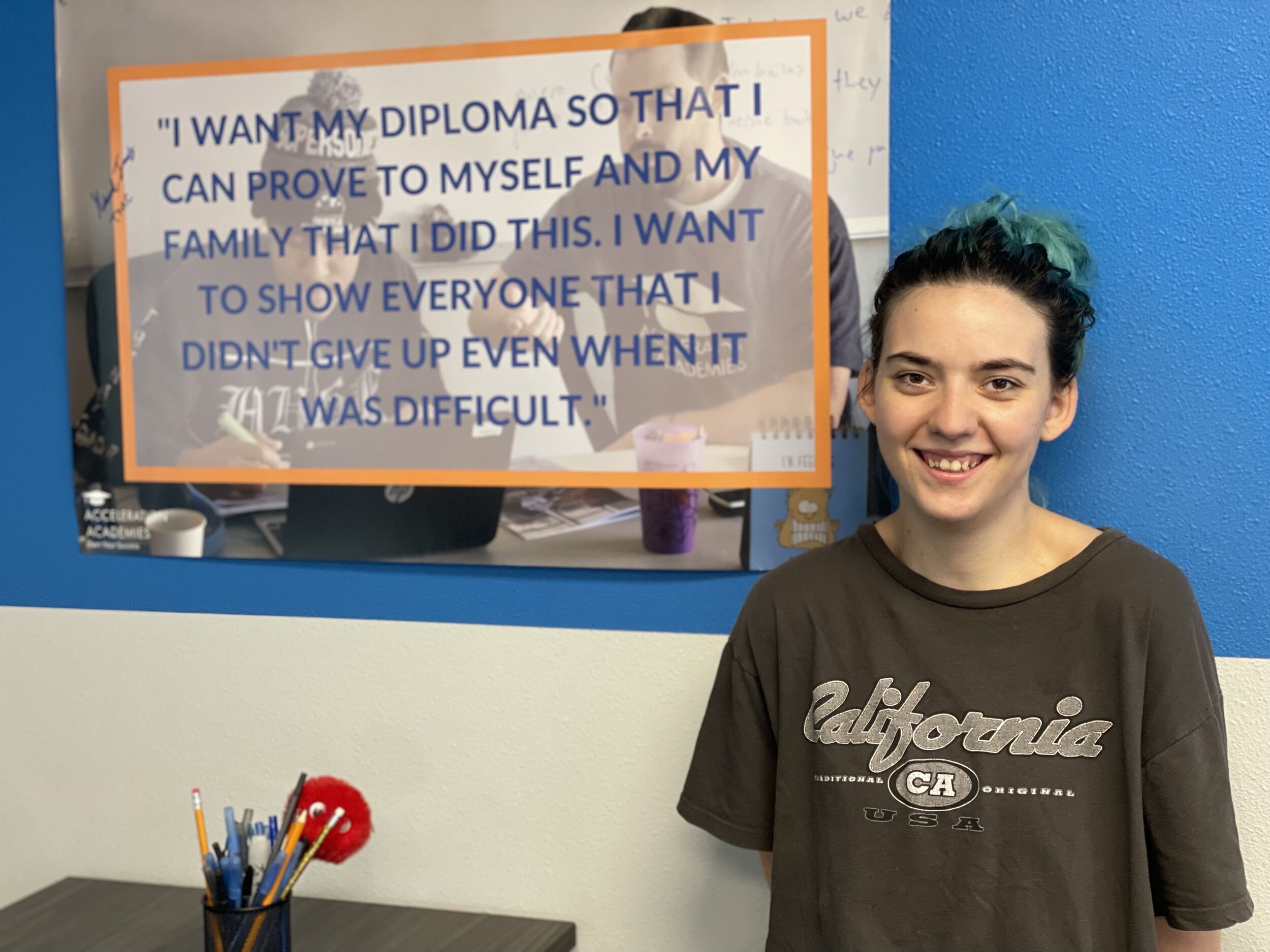 In her young life, Leah McElroy has rarely felt like she was home. Her mother struggled with drug addiction and ended up in jail, her father never showed up at all during her childhood, and the grandmother who adopted her at a young age failed to give her a safe and stable family environment, she says.
Between the ages of 13 and 18, she bounced between a succession of foster homes that were no better, said Leah, now 19. Finally, she fled the foster care system, dropped out of high school and couch-surfed from friend to friend.
But Leah had a dream: "to be the first in my family to graduate." She found her way to Bethel Acceleration Academies, where the team of educators offered her a personalized curriculum, coached her and celebrated her every success.
Now she's a member of the Class of 2021, and she's justifiably proud. "I worked really hard for this."
For a long time, Leah was unsure she would see graduation day. Her family life was chaotic, and her lack of strong adult role models left her feeling adrift. When she arrived at BAA, she says, she benefited hugely from the encouragement and example of graduation candidate advocate Starr Phillips.
With support from them and others on the BAA team, Leah built her self-confidence and sense of herself as a capable young woman.
"Most people who come here want to be treated like an adult, want to be treated with respect," she said. "They're not kids. They're trying to get their lives in order."
She was happy to be away from the chaos of her earlier life — the foster families that gave her no privacy and recklessly disposed of her favorite clothes, books and stuffed animals; the school hallways and bathrooms where students vaped and picked fights.
"Here, it's a lot more quiet," she said of BAA. "You can focus more."
She has ambitions to become a paramedic and an early childhood educator. When she was 9, her mother overdosed on drugs and Leah remembers how kind the paramedics were. She might even become  a foster parent, a good one. "I know what it's like not to have a good one."
With her diploma in hand, Leah says things are looking up. Her mother is out of prison and seems to be getting straight. "She called me on my birthday," she said with a smile.
She hopes other students who have struggled in other settings come to Bethel Acceleration Academies. Her advice for them: "As long as you work hard and you ask for help when you need it, you can do it."