An $80,000-plus annual salary, a career turning creative ideas into video games and data visualizations, even a Bronze Star in the U.S. Army — all these and much more can come your way if you learn skills in the expanding world of computer coding.
That's the message graduation candidates at Acceleration Academies across the nation heard last week as educators invited them to participate in the Hour of Code event during National Computer Science Education Week.
"I never would have thought that I would be an IT person, but for me it changed my life," said Brandy Gordon, the career and life coach at Wichita Acceleration Academies.
Gordon spent 13 years in the U.S. Army, entering as a skilled vehicle mechanic but recruited to join the satellite communications team helping coordinate battles in Afghanistan and other war zones. She told the GCs, "We literally had lines where the president was talking to the generals, so having those lines operating was critical."
Gordon learned so much about coding and other technology that she was able to overhaul a troubled system at a key point in the conflict, earning her a Bronze Star for service.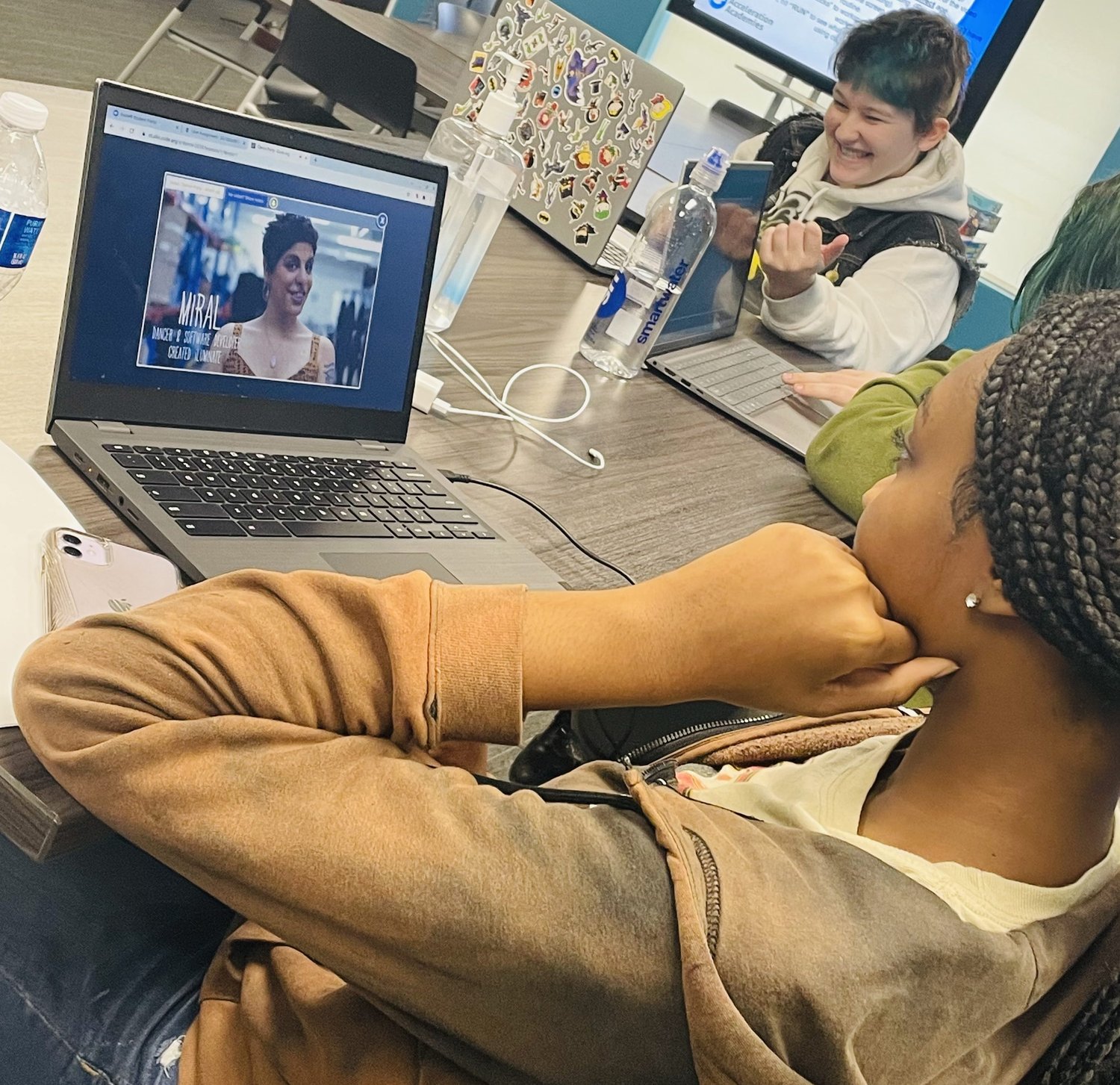 WAA social studies coach Kevin Farlow served 24 years in the Army, as an infantry sergeant in hot spots including Iraq. Farlow told Wichita learners that he had made a "bad choice" in dropping out of high school during his senior year.
But after enlisting in the Army, Farlow was able to study computer science at the college level. He put those lessons in coding and other skills to work maintaining networks that, among other things, pinpointed the launch sites of enemy missiles.
"I just fell in love with coding," Farlow says. "You're taking an idea and making something from it. It can be a game, it can be a tool, it can be a business app. If you can think of it, you can code it.
"Why should I learn how to code?" Farlow asked the GCs. Well, for one thing, you can make $80,000, $100,000, $130,000 more a year in a rapidly growing field.
"This is why coding can change your life."
While college study is the most thorough preparation, Farlow said that shorter-term programs can equip coders with the knowledge needed to become an expert in one computer language or another.
"You do not need a college degree. You just need to be proficient in your language," he said.
In Wichita, the coaches invited GCs to create a simple video game, using code to create graphics, engage targets, keep score and introduce sounds. At other Acceleration Academies across the country, coaches and learners engaged in a variety of fun and educational activities.
At Lowcountry Acceleration Academy in Charleston, SC, learners used coding to create their very own dance routine. In Miami, FL, they tried their hand at Desmos graph and programming. In Bethel, WA, they had fun weaving coding into games. In Escambia County, FL, they learned that coding is a path available to everyone, not just computer geeks. And in Clark County, NV, they learned coding basics including the algorithms now at the heart of everything from Instagram to Google to Tik Tok.
The Hour of Code activities are the latest example of an increasing emphasis on career and technical education (CTE) at Acceleration Academies, ways to help learners explore college and career pathways.
"By applying the learning in the Hour of Code event, you start to see the possibility of doing that in your career pathway," said Monique Anair, model fidelity coach for CTE across the network.
"It's a skill set that is cool now," Anair said. And it's also practical. "Almost every pathway right now requires some understanding of coding."