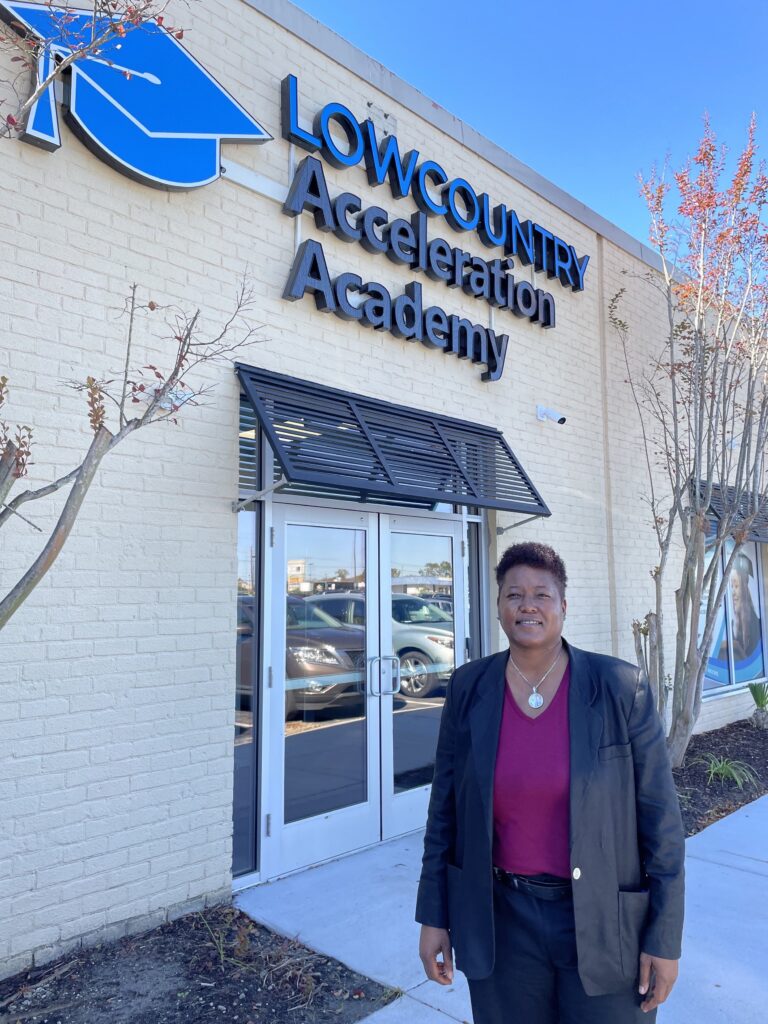 Since opening its doors in August 2020, Lowcountry Acceleration Academy has attracted more than 250 students, a number that grows by the week. Many of them learned about the school from a passionate enrollment coach, LaTosha Walker.
"This population gets overlooked. There are barriers causing these children not to be successful in school," says Walker, who grew up in South Carolina, played basketball in college and earned bachelor's and master's degrees. Her life mission: opening doors for young people whom others may have written off.
"The difference between this and public school is that we give them the tools to help them be where they need to be," says Walker. Her message to them: "Look at the person in the mirror. You have to please that person, not anybody else." 
Every week, Walker gets in her car and drives the neighborhoods of Charleston and surrounding counties. Armed with a list of young people who've left traditional high schools, she carries information about LAA, a free public charter school that works in partnership with the South Carolina Public Charter School District to offer a personalized, non-traditional path to a diploma.
At 8 out of the 10 doors on which she knocks, nobody answers and she leaves a door hangar with information about Lowcountry. Before she's driven around the block, those materials have disappeared and, often, her phone rings.
Often, especially in lower income neighborhoods, it's a curious grandmother — a woman who didn't finish high school and wants better for her offspring.
"Because they didn't get their education, they're more serious about their grandchild getting their education," says Walker. They tell their grandchildren, "You need to get this education because you see how I didn't get one and am living in public housing. Go ahead while you have the opportunity. I didn't have the opportunity."
When Walker meets prospective students, she often sees hopelessness in their young eyes. "A lot of times they think nobody cares," she says. "You just look at their body language, and they're just so defeated."
She invites them to visit the academy, located on Rivers Ave. in North Charleston. When the prospective students walk inside, they find not a traditional school with packed classrooms and noisy halls, but a spacious, quiet learning environment with cafe-style seating.
Most importantly, they meet educators who stand ready to support them not only academically but also in addressing obstacles that may stand in their way, such as teen pregnancy, difficulty in securing housing and food, and the need to work full-time to support themselves and their families.
"A lot of times, I enroll them that same day," she says.
Walker has built a career helping young people in the public school and juvenile justice system overcome obstacles and build the confidence they need to succeed. As she looks around the Lowcountry campus, she sees her recruits working steadily, smiling on the regular, and picturing themselves going only up.
"They're used to the 'can'ts' — as compared to this is what I can do."