When Roberto Hilarion and his sister were younger, their parents moved from Cuba to Miami in hopes of building a better life for their children. 
Both his mother and his father worked two, even three minimum-wage jobs at a time. Their mother cleaned factories, pizza shops and restaurants. Their dad worked as a carpenter and handyman and joined his wife in helping out at pizzerias. 
"I barely saw them," says Roberto, now 18. "They gave it all for me and my sister." 
Now, with his high school diploma in hand, Roberto plans to give back. "My dad deserves a Harley Davidson, which I want to buy him. My mom deserves a house, which I want to buy her. I'm going to make her dreams come true sooner than she thinks." 
Those dreams take money. Thanks to Miami-Dade Acceleration Academies (MDAA), Roberto says, he's been able to hold down a full-time job, help support his family and lay the groundwork for his own dreams. 
"Traditional high school wasn't for me. I felt like the days were long for no reason," Roberto says. "At Acceleration Academies, the difference is that I was on my own time." 
Roberto is a bright, personable and industrious young man. While a traditional school day would not have accommodated a full-time job, the flexible scheduling and personalized curriculum of MDAA allowed him to work full-time helping patients at a radiology clinic. 
As he worked his way through his coursework in his free time, Roberto knew that he could get personalized help whenever he needed. 
Math was a particularly challenging subject, but math coach Eliane Hernandez stood ready to help him break through the barriers. She was also ready to listen. "As a human being, she was someone I could talk to, someone who could help me plan my life out." 
Also providing steady encouragement was graduation candidate advocate Bryan Villagran. "Bryan was always there when I needed him, even if it was outside school hours. I really appreciate that." 
With diploma in hand, Roberto is enrolling in real estate school to earn his Realtor license and, he hopes, eventually become a property owner and investor himself. And thanks to his ability to work full-time while studying, he will be riding to the future in style.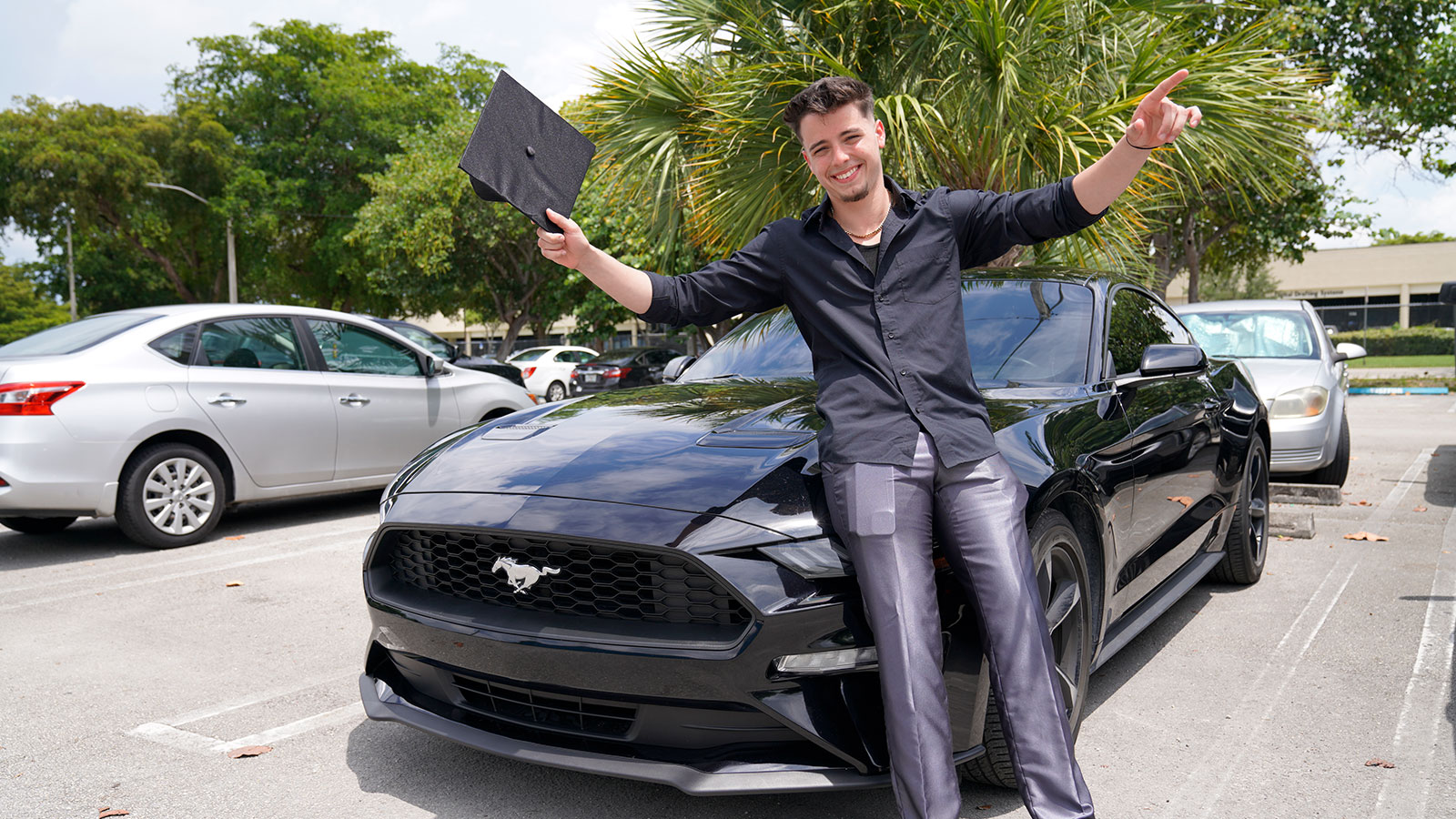 Roberto arrived at the recent MDAA graduation ceremony in a gleaming black 2019 Ford Mustang. After he and his family celebrated the diploma certifying him as a member of the Class of 2023, he proudly showed off his new ride. 
"If I didn't find Acceleration Academies, I wouldn't have been able to have a full time job, so I wouldn't have been able to help with the bills at the house," he says. 
"And," he adds. "I wouldn't have been able to buy my car — which I'm in love with." 
Miami-Dade Acceleration Academies accepts new students on a rolling basis. For more information, check out the academy web page and fill out an online enrollment form.