Of all the challenges that teenage parents face, finishing high school shouldn't have to be one of them.
At Acceleration Academies, we help young moms and dads succeed by providing a free, alternative and personalized path to a high school diploma.
Here are the ways we do that:
No. 1: A welcoming space
A lack of childcare is often a reason for teen moms to drop out of high school. We get it, finding reliable and affordable care for a little one while you go to school for 7-plus hours per day, 5 days each week is not an easy task. Not to mention the homework you're expected to complete outside of school hours. That's why at many of our sites, graduation candidates (GCs) — that's what we call our students — who can't find childcare are able to bring their babies with them to the academy. Some of our academies even have private lactation rooms on site for nursing mothers. 
This family-friendly approach gives moms and dads the ability to complete coursework surrounded by caring and supportive teachers (also known as content coaches), ask questions as needed and still be a parent.
Policies for allowing babies on site vary by academy, so check with your local team or talk to an enrollment coach to make sure this is an option for you and your little one.
You might be interested in: Young Moms — and Their Babies — Thrive at Wichita Academy
No. 2: Flexibility to work from anywhere at any time
While young parents are often able to bring their babies with them to the academies to learn on site, we know that most of our GCs who are juggling parenthood and high school need even more flexibility in order to graduate. We do have attendance requirements for how many hours each week you have to be on site making progress in your course — check with your local academy team on exactly what that requirement is — but, outside of that, Acceleration Academies offers the ability for any GC to work remotely; from anywhere at any time that fits their schedule.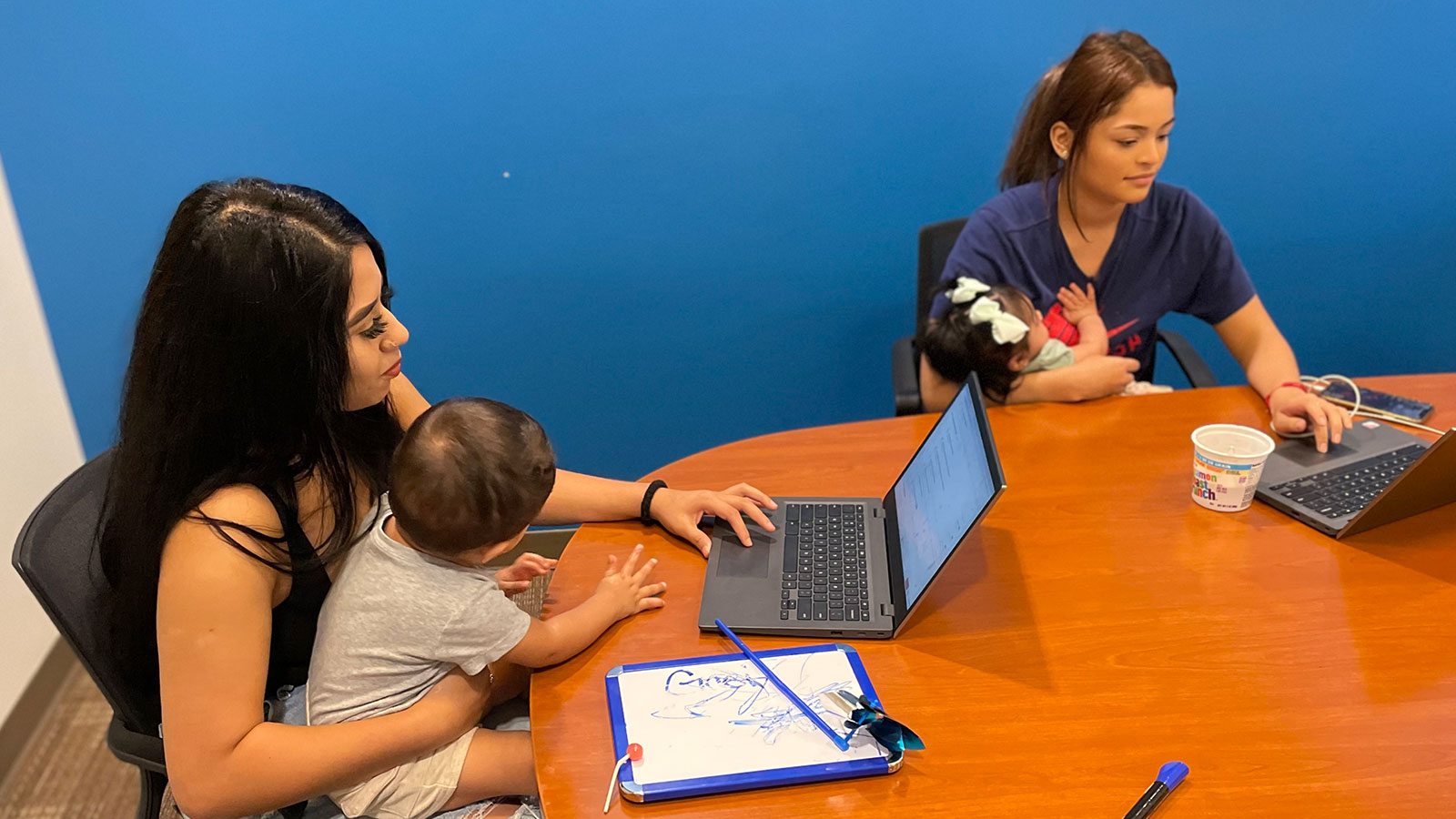 No. 3: Personalized learning
Young parents pursuing their high school degree thrive with one-on-one instruction as they take only one course at a time at Acceleration Academies.
Personalized Learning Plans (PLPs) are established during orientation on day one and are regularly updated throughout the GC's lifecycle at Acceleration Academies. The constant re-evaluation and updating of PLPs keeps students and their support team focused and on track for graduation.
Education is not one size fits all, and working together with students and their families to create a Personalized Learning Plan that takes their life outside of school into account makes for a smoother journey to a diploma.
You might be interested in: St. Lucie Grad Summer Worthington: 'Hey Girl, You Got This'
No. 4: Non-academic support
Helping GCs overcome academic hurdles and getting them to the finish line, or graduation day, is our priority as educators. But, we recognize that students have a life outside of school, and sometimes that life creates non-academic barriers that make academic success even more challenging.
For teen parents, this is particularly true.
To help young moms and dads enrolled in our program succeed, educators and support staff at each academy get to know them on a personal level. We find out what life challenges they are managing and work with them so they don't have to navigate those challenges alone. We believe that providing mentorship, emotional support and serving as cheerleaders and problem-solvers is just as important as the academic support we provide.
And, because our educators are embedded in the communities they serve, they are well-equipped to connect young moms and dads to community resources and programs related to teen pregnancy/parenthood, housing, nutrition, medical and mental health care and other services.
No. 5: Career and life coaching
On-site career and life coaches help set up teen parents for success post-graduation by working with them to explore and select a career path that's right for them. These specialists help identify your unique interests and strengths, and together you will explore career options and develop a plan to meet your goals after you earn your diploma. This way, you and your baby are set up for a life of success.
Many of our proud moms and dads even walk the stage on their graduation day holding their little one. A sight we're always happy to see! If you're ready to make a change and take advantage of the help that Acceleration Academies provide, start the enrollment process today.