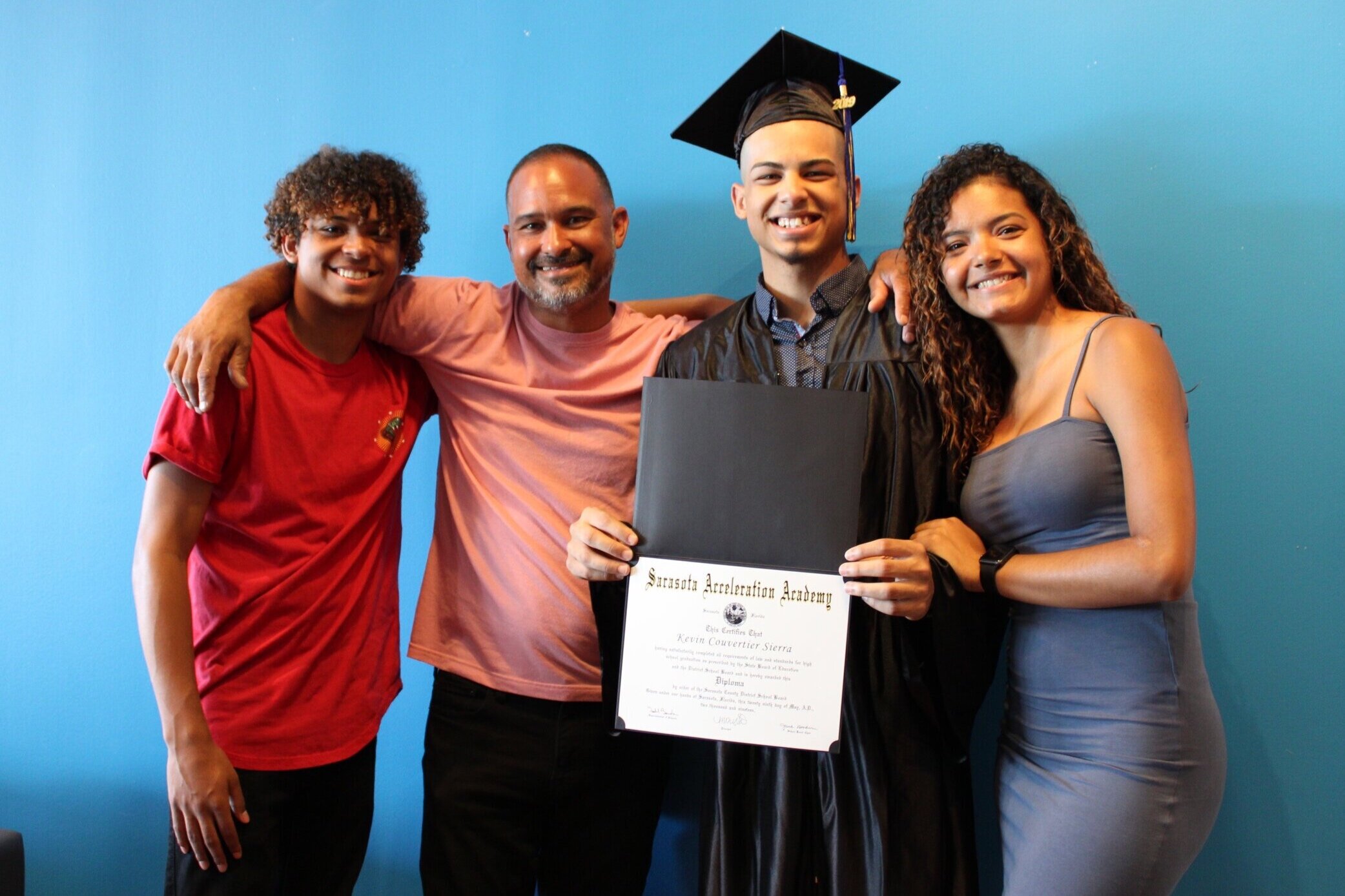 GC, Kevin Sierra Celebrates with his father, sister and brother.
For the Sierra family, Sarasota Acceleration Academies represent a vital step toward success in life. Christian Sierra recently joined the ranks of newly minted graduates — following in the footsteps of his older brother, Kevin, who was a member of SAA's first graduating class in May 2019.
"We always stick together, no matter what happens," Kevin, 22, says of his younger brother. "I saw that he looked up to me."
Graduating from high school once seemed a goal just out of reach for Kevin. While he had completed the required coursework at a traditional high school, he was unable to score high enough on the English language portion of Florida's required standardized testing to earn his diploma.
The Sierras are natives of Puerto Rico, and English is their second language. "English for me is hard," says Kevin. After he fell short in numerous attempts at passing the test, he reached a point where he said, "I don't want to do this anymore. Every time I come up short by a couple of points."
Acceleration Academies work in partnership with Sarasota County Schools to provide a non-traditional path for students who haven't found success, including those who need to get over the final hurdle of state-required testing. When a letter arrived at his home explaining the program, he decided to check it out.
When he arrived at the campus, he was struck by the sight of students — who are called "graduation candidates" (GCs) to remind them of their goal — working quietly at computers and in small conferences with teachers ("content coaches") and mentors ("graduation candidate advocates" or GCAs).
Social studies coach Fred Thomas has developed a system for helping learners like Kevin build their test-taking skills. Thomas would have Kevin take a practice test, then go over his answers with him to help refine his approach. A piece of advice Thomas provided that Kevin found particularly helpful was to identify the reading passages that seemed most clear and answer questions about those first before moving on to more challenging ones. That way, he could rack up positive points early in the test and increase his chances of a passing grade.
"He helped me a lot," Kevin said of Coach Thomas.
Also instrumental was Frank Cruz, a veteran GCA who brings enormous energy to the campus every day, holding students to a high standard and cheering them on at every opportunity.
"What can I say about Frank?" Kevin says. "The first moment I got here, he motivated me." With Frank's encouragement, "I just took it to a deeper level."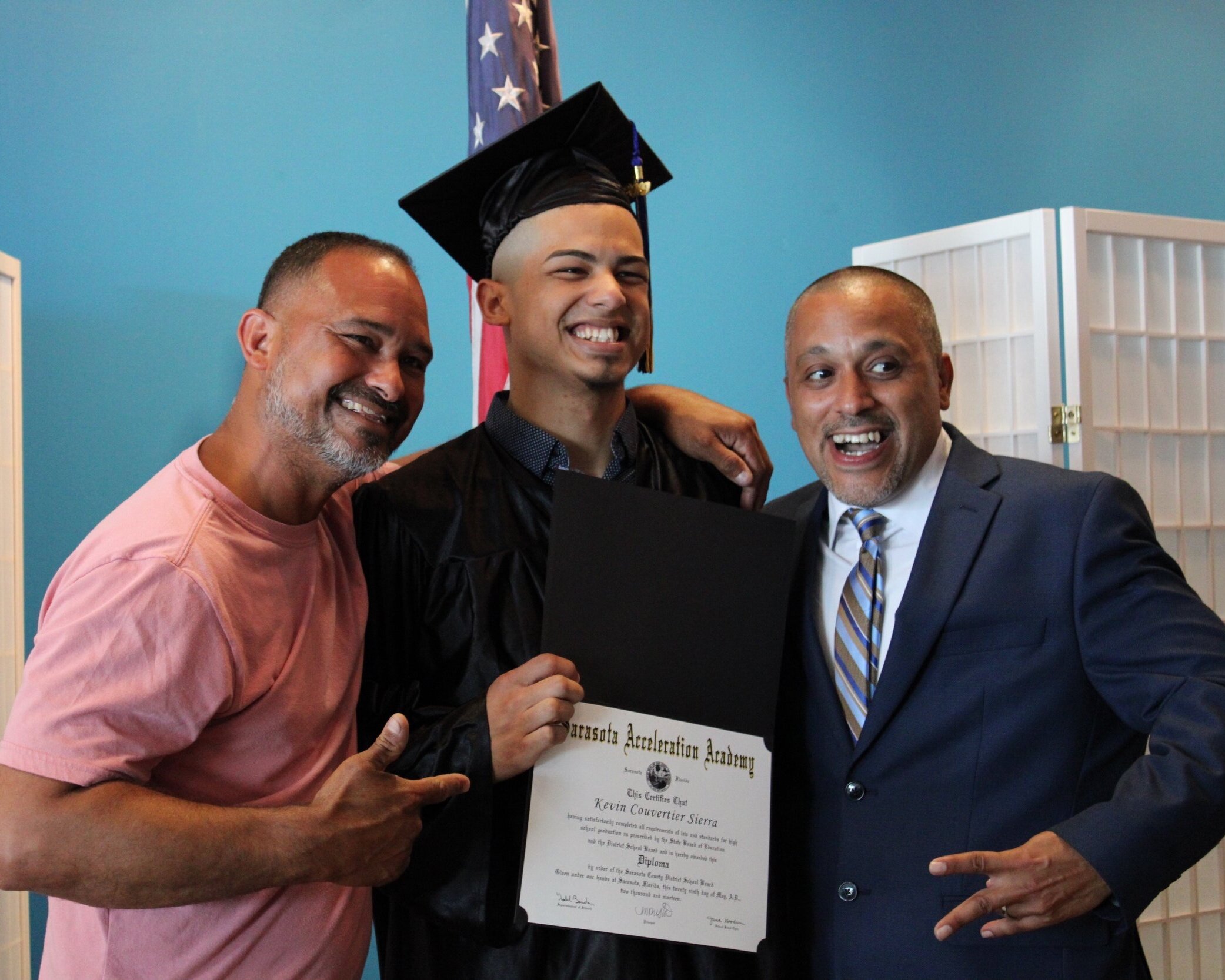 With the encouragement of graduation candidate advocate Frank Cruz, "I just took it to a deeper level," says grad Kevin Sierra.
As he took more practice tests, Kevin was given shorter and shorter time limits to prepare him for the actual testing. And after much practice, Kevin took the test and was delighted to see that he had passed.
A year and a half later, he's running his own pool-cleaning business, Rising Pools. "I just decided, 'I'm going for it,' " he says of starting his own company. "It's growing super-fast."
The Sierra family turned out in force for Kevin's graduation, and they are cheering anew as Christian claims his diploma after having struggled in traditional school but finding his path at SAA. Cruz says big brother deserves credit for leading the way.
"For both of you guys to come so far, Kevin, I'm really proud of you," Cruz tells the young grad and entrepreneur. "Not only are you making yourself a better person and a better man, but you're doing something for your brother."