Lee County Acceleration Academies (LCAA) celebrated its first group of graduates recently, as young men and women who might have otherwise given up on high school received the diplomas they had worked so hard to earn. 
LCAA's first grads are Christian Arenas-Narvaez, Elizabeth Galeas, Alyssa Hooper, Akaidya Johnston and Kaiden Ruiz. Family, friends and educators gathered to cheer them on as the grads joined in a district-wide ceremony. 
"Each graduate has a unique story, but the commonality they share is that they have persevered through the obstacles that caused them to take a different path than most to obtain their high school diploma," said LCAA Director Shelley Markgraf. "All five knew the value of a high school diploma and were determined to achieve their goal of crossing the finish line. Our first graduates are the definition of 'grit.' We applaud their perseverance through a challenging journey to success."  
Each had his or her own story of perseverance. Take, for instance, Kaiden Ruiz. 
When Kaiden arrived at Lee County Acceleration Academies in February, he seemed an unlikely candidate for success. Kaiden had dropped out of school for the better part of a year, had numerous failing grades on his transcript and needed to complete 19 courses and pass state testing to earn his diploma.
Less than six months later, Kaiden became the first LCAA graduation candidate to earn a diploma since the school opened in January. 
"He came in faithfully and he was finishing a course every 3-5 days — he started to feel the success and he just rode that wave of success," says Markgraf. "He had such a great mindset of 'This is my job. This is what I'm going to accomplish.' "
Kaiden had dropped out of a traditional high school, saying that the way classes were taught after the Covid pandemic didn't work for him. There were too many students, too little personal attention. But he also acknowledges that he had given up trying as hard as he could.
"Honestly, me falling behind was more my fault."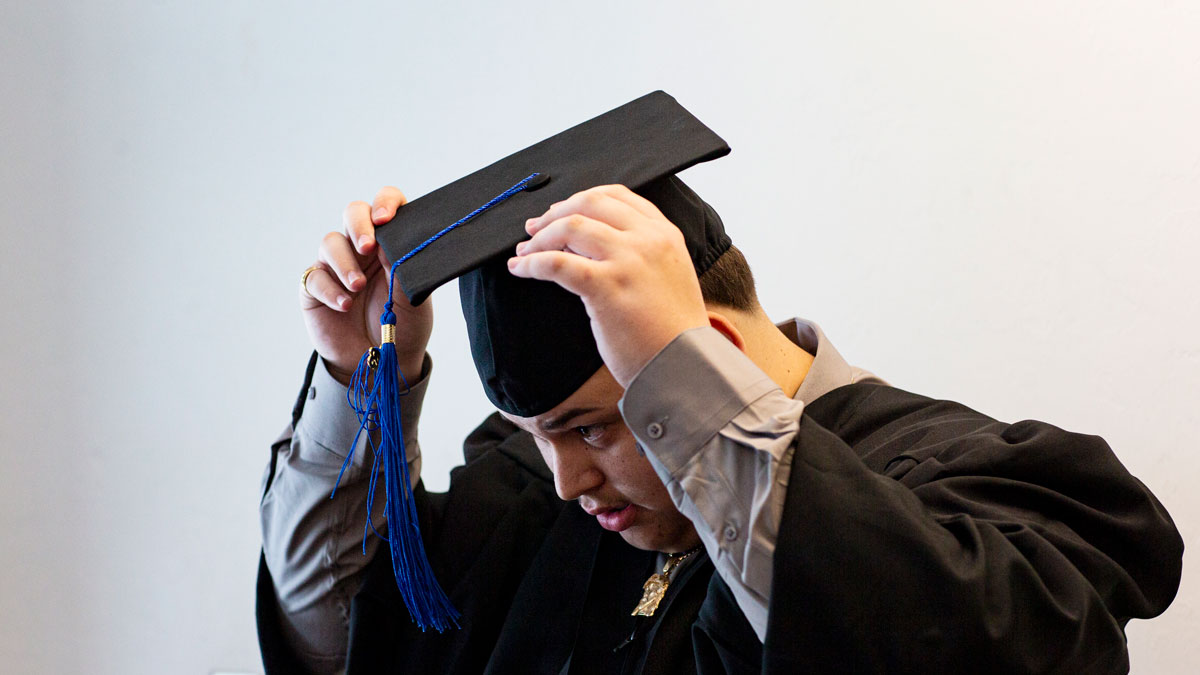 At LCAA, Kaiden liked that he could work on a flexible schedule, doing coursework from home and on campus and getting one-on-one support whenever he needed it. Math was a particular challenge for him; when he arrived, he needed not only to complete 3 math classes but also pass the state standardized testing required to earn a Florida diploma. 
Math coach Jeff Aquillo was a great ally, breaking down complex topics into manageable pieces and working with Kaiden and other graduation candidates to prepare for the state testing. 
"Does that mean I can graduate?" Kaiden asked after passing on the second try. The answer was a resounding "yes!" 
With diploma in hand, Kaiden is planning to earn his commercial driver's license and work toward owning his own trucking business, along with exploring the possibilities of real estate investment. Thanks to his own grit and the support he received at LCAA, he says, the road to success is clear. 
"He worked night and day," Markgraf says. And he became such an enthusiastic learner that when other students would arrive feeling disheartened by their past school performance and despairing of their ability to earn their diplomas, the LCAA team would invite Kaiden to share his insights. 
"The advice I give to other people is that if I can do it, then they can do it," Kaiden says. "If their goal is to get their diploma, then do not give up — fulfill that goal no matter what."
Below are a selection of photos from graduation day by Fort Myers photojournalist Andrew West. Lee County Acceleration Academies accepts new students on a rolling basis. For more information, check out the academy web page and fill out an online enrollment form.