When Devon Linhardt moved to Pensacola with his father, a spell of hard times forced them to live in a van and made Devon uneasy about enrolling at a traditional high school to finish his diploma.
He found his way at Escambia County Acceleration Academies (ECAA), where caring educators and fellow learners welcomed him into a non-traditional, personalized learning environment.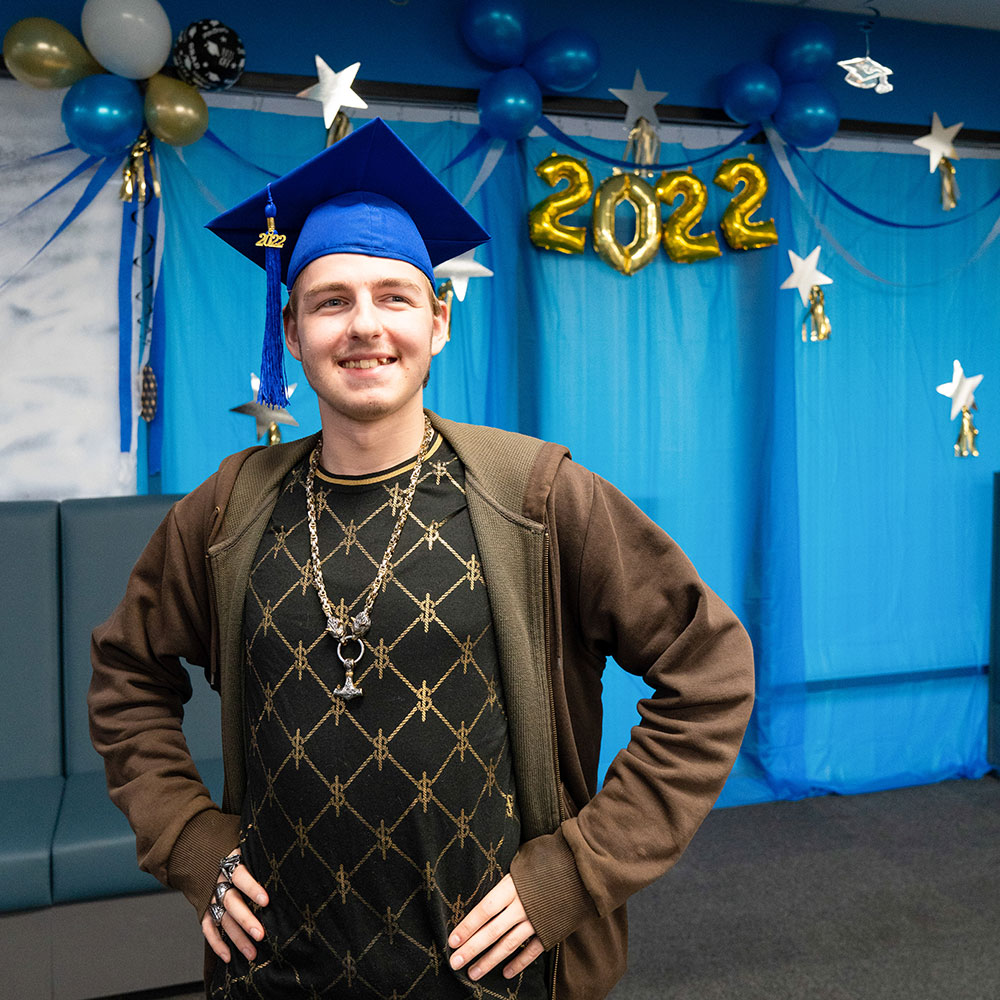 "They were there for me at a really low point in my life," Devon says. "Escambia County Acceleration Academies offers a more comforting environment and allows you to work at your own pace."
And now, he's a proud graduate planning to build a career in health care. "Escambia County Acceleration Academies changed my life."
When Devon arrived at ECAA, he says that educators got to know him as an individual rather than just another name on an attendance sheet. They understood that his ADHD sometimes makes it hard for him to maintain focus, encouraging him to take brief study breaks and then get back to work.
"Without a doubt, it was not traditional," he says of the Pensacola academy, where students — who are called "graduation candidates" to remind them of their goals — are invited to settle into cafe-style seats, work alone or in small groups, and grab a snack or reach out for help whenever they feel the need.
"It has the air of a school but it also has the air of comfort," says Devon. "It has the familiarity of home and the comforts of home while also having staff on campus who can help you with your questions."
Devon credited a number of the ECAA educators with inspiring him, including career coach Yalonda Tibbs, who helped Devon map out his coursework and explore possible career and higher education opportunities. "If I had a question, she was there to answer it."
While Devon liked to study on campus, he — like many GCs — appreciated the flexibility to work from home when transportation and time were issues. ECAA even provided a laptop, which helped during his family's lean times.
"It was comforting to know that if for some reason I couldn't make it to school, I could pull out my laptop and fire up my hotspot and get the work done at home," he says.
Since he enrolled at ECAA, things have been looking up for Devon and his dad. His father landed a job as an information technology specialist at a hospital, giving them the income to rent a house and stabilize their lives. They were able to eat their Thanksgiving meal in comfort, get a cat and make plans for the future.
Devon would like to build a career in health care, training to become an EMT in the short term. In the long term, he would like to study genetics in college and become someone who can use gene therapy to help people overcome obstacles including cancer.
"When I hit really rough patches in my life, there were people there to help me," he says. "I would like to do that for someone else."
High on the list of people to whom he's grateful are the coaches and advocates at ECAA who urged him to become his best self.
"There were some times I wasn't optimistic; I was worried that I might just end up another washout student," he says. "But I kept at it. If you want to stand at the top, you've got to be willing to walk through a little mud at the bottom. It's about getting back up, grabbing the rungs on that ladder and pulling yourself to the top."
Escambia County Acceleration Academies accepts students on a rolling basis. For more information, check out the academy web page and fill out an online enrollment form.