A new special report on re-engaging students who dropped out during the Covid pandemic puts a spotlight on the flexible, personalized option offered by the rapidly growing network of Acceleration Academies across the nation — and features interviews with educators and young learners benefiting from the program.
"More than two years of academic and emotional disruptions during the pandemic have significantly increased both the number of students who dropped out of high school and the intensity of support needed to get them back on track," Education Week editor and reporter Sarah D. Sparks wrote in a package of articles carrying the headline Dropouts Now Face a Steeper Climb to Earn a Diploma Post-Pandemic.
"Across the country, more districts are opening or expanding dropout-recovery programs—via district alternative schools, charters and contracted services—the educators in these programs say they must provide more hands-on care than before the pandemic for students disenchanted with online remote learning," the article continued.
Acceleration Academies figured significantly in the Education Week report.
"Acceleration Academies, a network of 14 dropout-recovery centers serving more than 2,800 students nationwide, has seen a dramatic uptick in demand. Margaret Sharp, the chief education officer for the network, which operates under partnerships with districts, said that while the number of students overall has risen since 2020, the growth in the number of students entering the academies needing more than 15 credits to graduate—the highest tier of need—has been especially high. The number of students doubled from 500 to more than 1,000. Acceleration has opened five new academies in the last eight months alone in Florida, Kansas, South Carolina, and Texas because of rising demand, with three more opening this fall in Florida and Georgia."
The article explained that graduation candidates at Acceleration Academies use an online learning platform that allows them to complete coursework on a schedule that fits around work, family and other obligations, while also providing personalized one-on-one support to address not only academic needs but also financial, social and emotional barriers to school success.
"Our kids typically do come to us having experienced some sort of trauma, but we are seeing more and more kids coming to us with trauma and mental health issues. It's not unusual for us to see kids suffering with suicidal ideation," Dr. Sharp was quoted as saying. The article continued, "Acceleration now assigns each student a 'life coach' —a licensed therapist or social worker—as well as a career coach for postsecondary guidance."
The switch to remote learning required by the pandemic had caused Aubrianna Morris to fall off pace for completing her high school education. But with the flexible scheduling and personalized coaching offered at Lowcountry Acceleration Academy in North Charleston, South Carolina, Aubrianna was able to take one course at a time, keep working at her job and realize her goal of a diploma before joining U.S. Army.
The special report also profiles Miami-Dade Acceleration Academies learner Gerilyn Rodriguez, who said she had disengaged from learning during the pandemic, falling asleep during lengthy remote learning sessions provided by her traditional high school.
"The teacher would just be talking and talking and talking, and I would just be there falling asleep. Honestly, I just had no motivation to [attend] this school, so I started falling behind a lot and I went through a lot of mental problems," Gerilyn said in an article entitled Teenager Balances Family Care, Work, and Credit Recovery on a Path to Graduation. Meanwhile, the need to care for her ailing mother and an opportunity to earn $1,000-$3,000 a week selling insurance further diminished her drive to pursue her diploma.
Then she heard from Miami-Dade Acceleration Academies graduation candidate advocate Erick Velis, who told her she could keep working and succeed in school. "I'm a little bit closer to [my graduation advocate] Eric because he's the one who always reaches out to me when I'm falling off the track. And he's the one who's helped me enroll and reenroll," she said.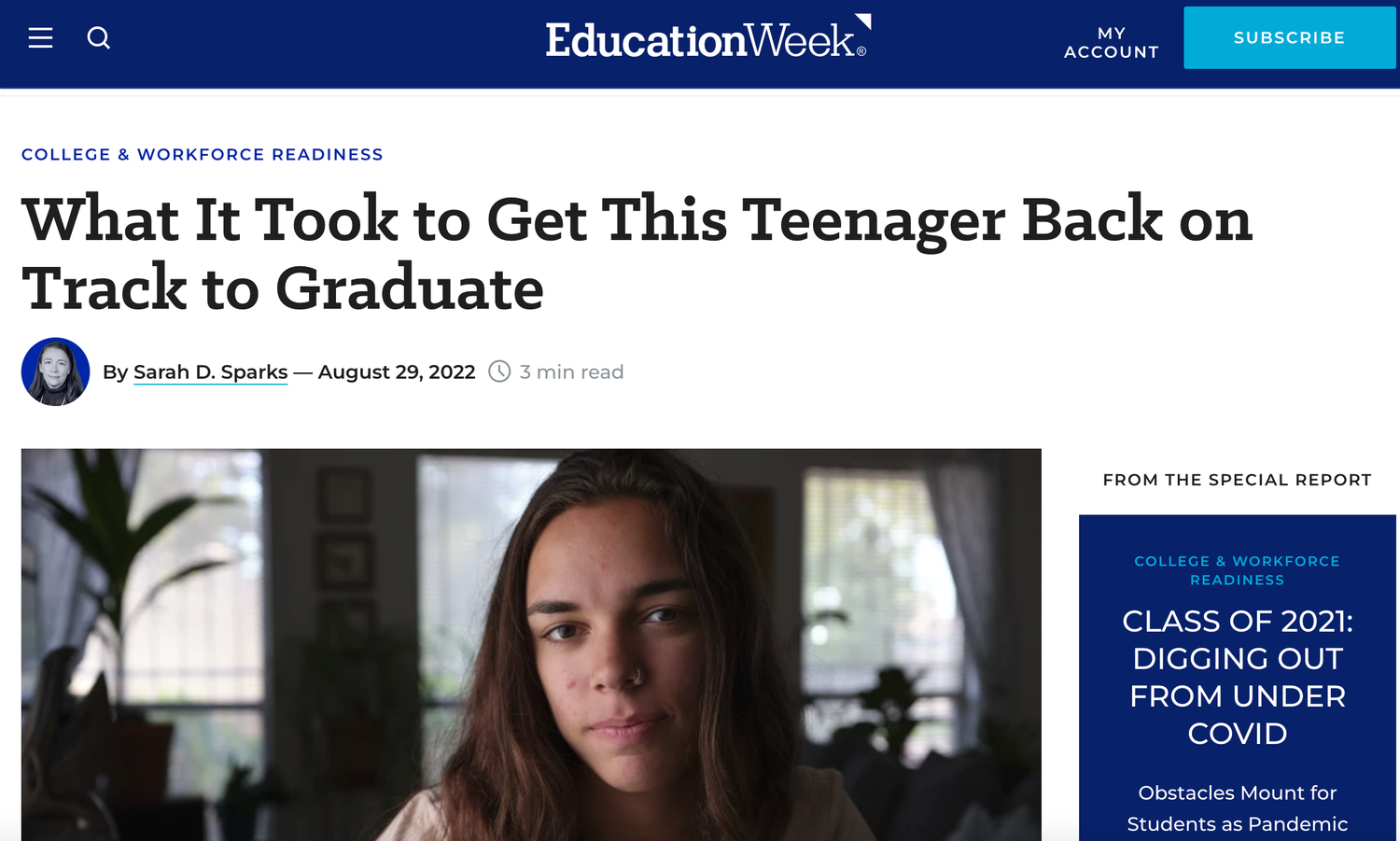 Another article profiled Clark County Acceleration Academies learner Nakaya Domina. Nakaya told the reporter that at her old high school she had been more interested in building a social life in Las Vegas, NV, than an academic career. The pandemic didn't improve her focus — but enrolling at CCAA did. She regained momentum, gained digital marketing skills through an innovative partnership between CCAA and the Nevada Help Desk, and recently earned the right to graduate.
Nakaya credited CCAA educators with giving her the tough love needed to maintain her focus, and the support she needed to navigate mental health challenges — support she hadn't found at previous schools.  'You just reach out and say, 'Hey, I'm going through a rough time. I need some help here.' And they're right away like, 'OK, well, here's the programs we have. We'll call them and tell them to reach out to you.' "
Finally, the Education Week report featured Lowcountry Acceleration Academy, where enrollment coach LaTosha Walker goes door-to-door to persuade students who have dropped out to try a different path, and Academy Director Dr. Jacinta Bryant and her team welcome them back with warmth, personalized help and the high standards that will help them succeed not only in school but in life.
"A lot of times, you have to meet the kids where they are, and they're at the house," said Walker, who travels through neighborhoods rich and poor. "Sometimes they need a gentle nudge to encourage them to get back on track."
Helping Walker to spread the word is graduation candidate advocate Janell Reyes, who tries to persuade students to give education another shot in a program tailored to their individual needs.
"We remind them that we want them to succeed as much as they want themselves to succeed, and we remind them of their support system that they have here at the academy," Reyes said. "But in the end, it's their decision. We only want what's best for them."